Search Engines are now a part of our daily lives even if some of us don't want to admit this. From looking after a gift for our significant other to finding out where you can get a good bagel in a city you're transiting through, we rely on a quick search to fulfill our daily tasks.
For most of us, this means a Google search, but as people are becoming more and more dependent on search engines in their daily lives, we need to think about what people search with. While Google is the main player overall, with 90% of the searches, some markets use their own specific search engines. A search engine is a web-based tool that helps users to locate information on the World Wide Web and displays them in a list, often referred to as a search engine result pages(SERPs). Wikipedia allows you to see the full history of search engines as well. In regards to the evolution of search engines, just think of all the people that use voice assistants like Siri, Cortana or Alexa, which pull information from the search engines as well. Google has it's own voice search.
You might be surprised to know that there are more than 40 Web Search Engines to which you can add a multitude of other utility search engines. I know how you feel, I thought it was a strange thing to look into. But after researching for a bit, even if I'm not personally ready to switch, I understand their importance. Here are the some of the Search Engines Right now.
This one obviously needs no introduction. Google is by far the most well-known search engine, and the data shows it. According to the reports as recent as November 2020 almost 90% of searches were done on Google. And weirdly (but probably not surprising once you think about it) the next two spots are occupied by Google Images and Youtube (which is crazy if you ask me and yes, it is a search engine).
Google is so large it's almost impossible to grasp. Starting out in 1996, Sergey Brin and Larry Page tried to sell Google several times and to several companies (there's a surprise later in the list about that) but after failing to sell, they managed to make the most used search engine. So big that it's several times larger than all of its competitors combined.

Advantages:
Provides the most qualitative search results
Has a very friendly and easy to use user interface
There are a plenty of features which are updated frequently
Has the largest single-catalog of webpages, meaning the biggest database
From the technical perspective, the algorithm is undoubtedly the most important in the market – multiple APIs available
Cons:
The browsing habits are registered and they are shared with advertisers
To rank on the first page for some keyword may take years
Too many results
Encourages advertising – too easy to get on the first ADS position
GeoRanker offers complete data for Google, so feel free to try our free Rank Tracker and SERP Checker Tools. We have all the Google alternative search engines too: Google Maps, Google Voice, Google Images, Jobs, News and so on.
While Google does top the chart in overall market share, the story is not the same in many regions across the globe, and one of those in China. In China the largest search engine is Baidu. The company also has the largest online presence in the country and has a population of 1.3 billion, that's quite something Baidu was established by Eric Xu and Robin Li in 2000. It is a tech company that offers a range of additional services besides the basic search engine. Stats show that Google is only used for 2.3% of all searches in China. The remaining 97.7% of searches are done by using local search engines, and Baidu is on top of that. Baidu gets traffic from more than 100 countries, although 93% of its usage comes directly from China. Baidu handles a comparative amount of queries per day, as Google does globally.
With a look similar to Google and with new features being added constantly, it's easy to see how this company has become a tech giant, and that it has no intention of stopping anytime soon. 
Advantages:
It's focused on a single language, chinese, and the results are supposed to be more accurate for that market
Has a lot of SERP features and they get updated frequently
Paid results are scrambled through the organic ones and it offers plenty of advertising options
Cons:
Highly controlled and censored by the government
The results are influenced in a direct way by the authorities
GeoRanker offers complete data for Baidu, so feel free to try our free Rank Tracker and SERP Checker Tools.
The second largest search engine in the United States, and the default Microsoft search engine, Bing seems like it could compete with Google. Once you look at the numbers and account for the fact that it comes as the default search engine on all Windows PCs,  it's nowhere near the impressive size of Google. There are features that set it apart, such as saving search results for later, or a Rewards feature that allows you to convert points for real-world discounts. All in all, it's a platform you must consider if you don't want to lose all those people who use it as their default search engine.
Advantages:
SEO friendly, way less competitive then Google
Takes into consideration more than 1000 signals to rank websites, from which one of them is site age
Way easier to be targeted for US market
From the technical perspective, Bing offers many tools to help SEO professionals to work with
Cons:
It's being used by the ones using the default search engine, which are considered not advanced users
It became too small and the KPIs are not constant
Forums and blogs are not seen in the result pages
GeoRanker offers complete data for Bing, so feel free to try our free Rank Tracker and SERP Checker Tools.
Yahoo has a very interesting story and seems like the perfect example of where one seemingly unimportant decision can change the course of history. In this case, it's tech history. Remember how Google tried to sell to a few companies in the beginning? Well, one of those was Yahoo. And over time, as Google developed new services, it slowly took a lot of Yahoo's business. From email to image hosting, Yahoo started losing customers to Google. From 2011 to 2015 Yahoo's results were powered completely by Bing, which seems even stranger when considering that Bing and Yahoo are more direct competitors with one another than they are with Google.
As Yahoo is the default search engine in the Firefox Browser, it still owns around 10% of the US search share. Furthermore, the Youtube search is used in some Asian countries, which still prefer it, as Japan.
Advantages:
The organic section is very comprehensive
Shopping search may be the most impressive from all search engines
Complete services, from mail to Yahoo Finance, Answers and more others
Cons:
Search results are not dated
ADS are not labelled properly, making the distinguish between organic and paid difficult
GeoRanker offers complete data for Yahoo, so feel free to try our free Rank Tracker and SERP Checker Tools.
The 8th most popular search engine in the world is another one that I can safely say most of us never think about. Except if you're in Korea; then it's a pretty big deal. Just like Baidu and other Search Engines coming up in the list, Naver is the largest search engine in Korea. Naver has features that appeal to the Korean market, having not only the search but also trending news, shopping and most interestingly, a feature that allows people to stream music and video. This means that we can expect its already huge market share in South Korea (75%) to keep growing, as it's the most convenient solution there. However, while it is becoming one of the biggest search engines in Asia, it's unlikely that it will grow in the international market anytime soon.
Advantages:
It is developed for a country known as being hi-tech
The first page is composed from multiple sections, each of them being a part: organic, blogs, q&a, knowledge and so on
Delivers more relevant results for Korean users
It promotes quality over quantity
Cons:
Its crawling and indexing is not that good as Google
Each segment has it's own algorithm and this makes SEO harder
GeoRanker offers complete data for Naver, so feel free to try our free Rank Tracker and SERP Checker Tools.
Another search engine with a large market share over a specific part of the population is Yandex. n Russia, Yandex is the most popular search engine among web surfers. The company was founded in 1999 and has become the largest search engine in the country today. When you use the search engine service, you get instant results, so you can browse for your chosen type of product or service right away. You can also get access to live directories as well as news feeds. The service is available in English, German, French, and Spanish. They have a wide variety of tools that you can use when you are conducting a search, and you can even do your own searches within the website.
Another useful tool that Yandex provides as one of its "top" services is AI designed to help various companies.
Advantages:
Delivers accurate, locally relevant search results
Has the best image search option
Offers customization option based on countries
Cons:
Collects and retains user data and it's controlled by the state
GeoRanker offers complete data for Yandex, so feel free to try our free Rank Tracker and SERP Checker Tools.
Sogou is the third largest search engine in China. But as it is with all data coming in from China, the sources differ quite a lot. Sometimes it's in second place, sometimes in third. And while the previously mentioned Baidu is definitely the king of search engines in China, Sogou has been growing very rapidly and is definitely worth keeping an eye on, especially as it has access to the whole client base of QQ, the largest chat service in the world, as they're both owned by the same parent company, Tencent.
Advantages:
It's an alternative to Baidu owned by a Chinese giant corporation
Has a more friendly SEO and an algorithm less complex than Baidu
It's connected to WeChat, QQ and Zhihu
Cons:
Still the same as Baidu, controlled and censored by the Chinese government
GeoRanker offers complete data for Sogou, so feel free to try our free Rank Tracker and SERP Checker Tools.
Another one the list is Seznam. As you probably got used from the last few points, this is also an area-specific search engine. In the Czech Republic, this used to be the main search engine before Google started appearing. And even if now it lost most of the market share that it has gained since being founded in 1996, it still holds a candle to Google in the Czech Republic.
Advantages:
Cons:
Too small, only has 35% of the searches in Czech Republic
GeoRanker offers complete data for Seznam, so feel free to try our free Rank Tracker and SERP Checker Tools.
"Dedicated for" search engines
The next search engines mentioned are dedicated for a certain subject, but, even if anybody sees them as websites with integrated search, they are still counted as search engines by many. Youtube is the 2nd largest(as number of searches) from all search engines, Amazon is the largest e-commerce search engine while Yelp is the most used for SMBs in USA.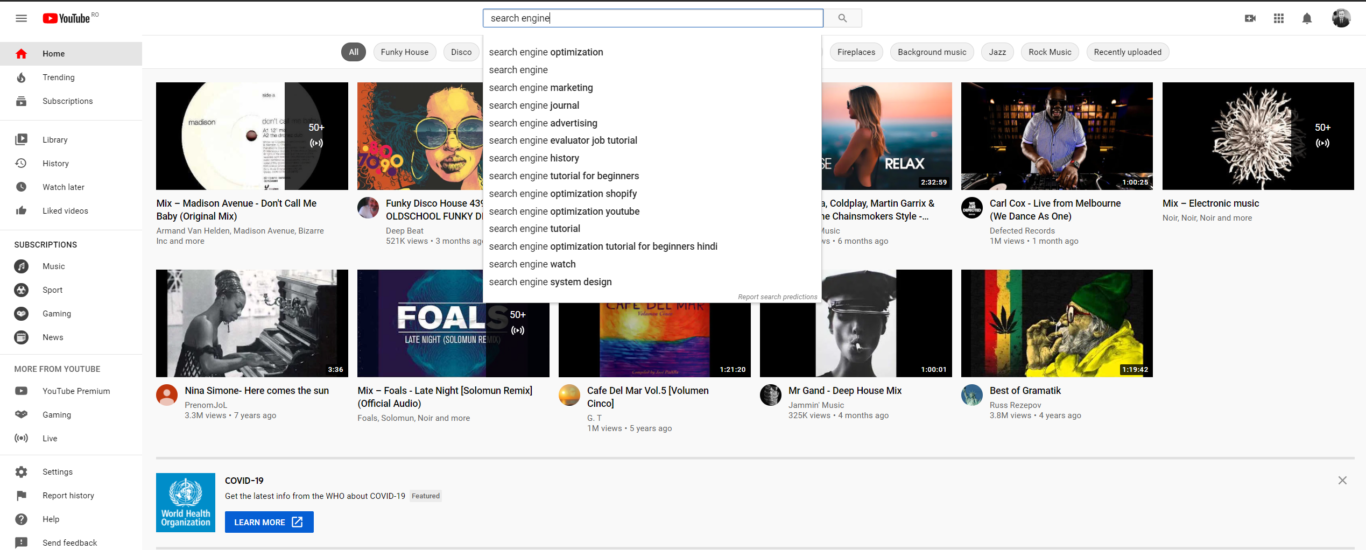 First of all, Youtube is owned by Google. It was founded in 2005 by veterans of Paypal. Youtube receives more than 1.5 billion logged in users per month and feeds over 1 billion hours of video each day(Yes, billions).  The search engine is the most used by kids, teenagers and young persons as their main place for music and entertainment.
Youtube plays a key role in Google Search, being present in the organic listing with video thumbnail or even with Video Carousel Box which have the purpose to be seen. Moreover, you can even find video in Google's answer boxes. We have written a comprehensive article about Youtube Rankings and Rank Tracking and I suggest you check it.
Advantages:
It can bring an impressive impact if used properly as a vehicle for traffic
Results are accurate, most of the subject have the content covered
It's the no 1 spot for influencers
SEO is pretty basic and it is influenced by relevant factors like how many times what the video viewed and time spent
Cons:
As it's part of Google, it can become pricey for advertising
Posting videos is free and there are too many videos that are not relevant

Nowadays Amazon is the world's leading platform for online commerce. As such, there is an ever growing competition for vendors to be as visible as possible on this platform. In other words, Amazon can be now seen as a brand new search engine where users compete to have their products rank as high as possible.   There are more searches done on Amazon directly than on Google for shopping. 
GeoRanker offers the possibility to stay ahead of your competitors on this search engine. Using our services you can check and optimize yours or your clients' rankings on Amazon. 
Advantages:
The place to be if you are selling something
It has a really big scale – recently you can order food as well
Amazon rankings are indexed on Google as well and that is bringing traffic
Cons:
Competition is fierce
It is based on reviews and this ranks your entire shop, not only a certain product
GeoRanker offers complete data for Amazon, so feel free to try our free Rank Tracker and Product Checker Tools.
Just as Amazon is the leading platform for e-commerce, Yelp is the
 leading platform when it comes to business reviews and travelling recommendations. In order to increase your sales and stay competitive, ranking higher on Yelp is a must-do for any business owner. Considering this, one is not wrong when associating Yelp with a traditional search engine. And just as for a traditional search engine, there is an increasing demand for SEO services for Yelp as well. 
Advantages:
It's local and that gives Yelp a next level of trust
Buyers trust what they see on Yelp
The traffic is almost always relevant
Cons:
Rankings are based on budget
They are acting as a business and not a search engine
Yelp reviewers gained way to big importance
GeoRanker offers complete data for Yelp, so feel free to try our free Rank Tracker and Listings Checker Tools.
Other alternative search engines
Before advancing to the section with search engines dedicated to a certain direction, I want to name other alternative search engines whose names you need to know: Duckduckgo(known for respecting privacy), StartPage(Google copy with no tracking),  Quant(based on Bing, respecting privacy),  Ecosia(eco-friendly), Swisscows(family friendly, no violence nor nudity), Gibiru(all traffic goes through a vpn), Disconnect search(allows you to use Bing, Yahoo or DuckDuckGo with an extra privacy layer) , Lukol(removes traceable elements while searching Google), MetaGer(privacy protected search and find), Gigablast(private search engine with private indexation) or WolframAlpha(private search engine using an AI algorithm to filter results)
How can GeoRanker help?
GeoRanker is the leader in the industry for the number of Search Engines that we cover. GeoRanker can provide SERP data and rankings for all the search engines covered in this article, including all the Special Features. Both via API and via our Online Platform of Tools. And we will always be on the cutting edge of whatever new things come up, so you don't have to worry about anything.
In the meantime, feel free to try our free tools and why not open a trial account. As always we are at your disposal for any questions or assistance.