Voice search era. How does this sound to you? We are in 2020 already and the stats are clear: 20% of the queries made on Google are voice searches, 31% of the smartphone users do at least 1 voice search per week and 71% of people would rather use their voice assistant to search for something than physically type their queries.
And that's only for Google, as there are many other: Amazon Alexa, Siri or Cortana. I'm pretty much sure you already heard these names before, and if you didn't, you will, for sure.  I will try to summarize some of the most important things about Google Voice Search in this article and its connections to SEO.
Will start with a fact: most of the webmasters neglect until now the importance of Google Voice Search Optimization.  Digital marketing is one of the top growing industries, and if you are a digital marketer, then you have to consider the implementation of Google Voice Search SEO or risk falling behind.
Voice Search And How It Works?
Voice search technology facilitates internet users by providing search results with the help of voice queries instead of typed queries. This technology uses ASR (Automatic Speech Recognition) system to convert the voice signals into a text query. 
After converting the voice signal, the Google search engine uses that text as a standard typed query and presents the search results.
There are four steps of voice recognition that are carried out for every search query:
Filtering the sounds from the flow of various other sounds

Digitizing the sound waves (converting the sound waves into digital data)

Processing the data

Pattern recognition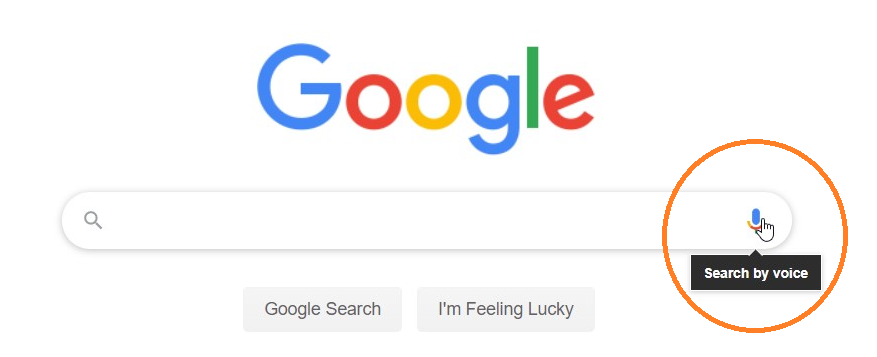 No doubt, Google owns one of the latest ASR systems. The AI behind Google's voice recognition gathers data and compiles millions of samples to generate a model to compare the new voice queries. Millions of available samples are used to recognize the accents, different tones, and various other individual speech details.
However, it is almost impossible to differentiate between queries like 'you're right' and 'you write' with the help of primitive ACR. 
But the intelligent system is capable of defining the right word depending on the context. Today Google's voice recognition engine is capable of converting the voice into text with an accuracy of about 95%.
Usually, people use two types of devices to perform a voice search, i.e., mobile phones with voice assistants and voice-first gadgets.
Why Is Optimizing for Voice Searches Important in SEO?
It is easy for webmasters to answer the queries of searchers and, as a result, get high traffic on their landing pages. Because searchers want to get the desired results quickly, and this technology fulfils their needs appropriately. It is a smart alternative to a web search.
If you want a new way to boost up the website traffic, it is time to get influence over voice searches. It helps the webmasters to improve the rankings in the search engine result pages (SERP) as well as improve the user experience that is the most critical indicator for getting higher rankings in the Google search results.

With the help of voice searches, users get the answer quickly and also helps to minimize the negative signals like increased bounce rates. 
However, the developments are still ongoing for the improvement of digital assistants' technology. No one is ignoring the fact that these tools are getting better and more accurate day by day.
Your previous searches are also helpful for getting the answers. Therefore, it means users will find it easy to get the desired data with the help of voice searches. Specialists need to understand the benefits of this technology and how to take advantage of it. I would recommend getting the services of a professional SEO service provider with experience in voice optimization. 
The Implementations Of Voice Search SEO
To take advantage of voice search and adopt the technology timely, it is vital to optimize your website for voice search. With a vast number of portable devices, no one is denying the bright future of voice search. Here are a few critical strategies that you have to follow to get better ranking in voice search results:
Use Conversational And Long-Tail Keywords
Voice searches have an informal nature and this makes using long-tail keywords essential. You probably know that short keywords already lost a part of their importance, so this conversational experience will probably lead to their extent.
Anyway, long-tail keywords are more precise as compared to standard keywords. Ok, they bring low traffic but based on lower or no competition. You can discover"low-hanging fruits" long-tail keywords by using any keyword tool.  You can also use questions that someone may ask during a voice search.
For example: Do you sell candles? Here's how a question would look-alike: "What are the top-rated fall scents". "Top-rated fall scents" optimized keyword will bring the voice users to your website.
Google Analytics is an excellent tool for measuring the metrics for both typed and voice searches. You can use this tool to determine the impact of voice searches on traffic of your website and to generate keyword ideas. You won't get exact statistics, obviously, but you will get a few tips and tricks that will lead you to some conversational keywords.
If your keyword research data includes a considerable number of conversational keywords, it is an indication that most of the searches were made with the help of voice searches instead of traditional typed searches. You can get to this data from the Google search console. The length of queries also provides another indication of voice searches. In the past years, you can see that it increased from year to year, which marks more voice searches.
Content is the most critical part of search engine optimization and you must consider reshaping the content: make it more conversational. Usually, internet users do voice searches in the form of questions. Thus, the inclusion of the FAQ page is necessary, and it is also a good source of long-tail keyword ideas.
You can also do this by creating the content in an interview style. So as an alternative to creating a post as a third person, you could have a question session between an expert and a reporter. You can create a video and write out it in a blog post. 
In this way, you have both written and video content to publish on your website that is more beneficial for marketing purposes.
Usually, podcast content is conversational by nature. If you have a podcast, then make sure that you have a copy of transcribing for every episode on your website.
Try To Rank For The Featured Snippet
The featured snippet, also referred to as an instant answer box, often shows as an answer to voice search results. There are two primary reasons for a featured snippet.
1. It indicates that the data comes from an authoritative and well-optimized source or website that let the Google search engine to rank it in the top ten results.
2. That's the answer considered by the search engines as the brief explanation for that subject. 
For example, if you try to do a voice search, you will be facilitated with an instant answer as a single result. If you decide to search with the help of a smart speaker, an assistant will provide you with the featured snipped result in a loud sound. It means there are no more SERP and no links from other websites. Just you and a voice snippet that is responding to your query.
The primary advantage of the featured snippet is that it effectively gets the attention of users as compared to other search engine results. While in the case of search queries, it is the only result a user can get.
If you're not trying to implement the voice search SEO, you will use customers due to lack of instant results even if your website is ranked in the top ten results.It's crucial to track SERP features for targeted keywords and you can do it with the help of the GeoRanker Voice Search rank tracker.
Concentrate On User Intention
When people visit your website, how do you come to know that they are willing to buy something or they are just here to get some information?
User's typing and searching style will let you know their intention. Usually, users clearly mention their purpose in their search terms. The inclusion of some specific words like price, buy, how to, what is allows you to understand from the beginning. In some cases, the intention remains hidden in the minds of users, so you should prepare for all the cases.
You should also concentrate on the intention of the user while generating content.  Improve the relevancy of website pages for specific search queries, but never ignore your purpose.
Even if you have the intention to optimize the website for a featured snippet, your primary purpose should be to understand the user's intentions and facilitate your audience with a quick answer. That's how you are getting to the featured snippet.

How to track your presence in Voice Search answers
The best way to start is to do an audit on your entire keyword rankings. You can do that with any rank tracker. As you probably know, here at GeoRanker we have our own local rank tracker, which works now on Google Voice searches. We also have a free tool, that allows you to listen and see the voice result for any voice query. Go ahead and see if you are one of them!
Drop us a line if you need to get a lot of this type of data. We are able to deliver data for voice-enabled SERPs at a scale.
Feel free to comment anything in regards with the article. We are also learning.