Like every puzzle, SEO has so many different pieces in its composition. Video SEO  is one of those. But you probably ask yourself, what means Video SEO and for what is important? 
Let me clarify this. Video SEO is helping you to optimize your video to be indexed and rank on the search engine results pages for relevant keyword searches. Website SEO is already a science nowadays, but how about Video SEO? Yes, there are already so many strategies that can bring traffic to your website with video optimization. Also, let me remind you that Youtube is owned by Google.
Video SEO – Add video content to your website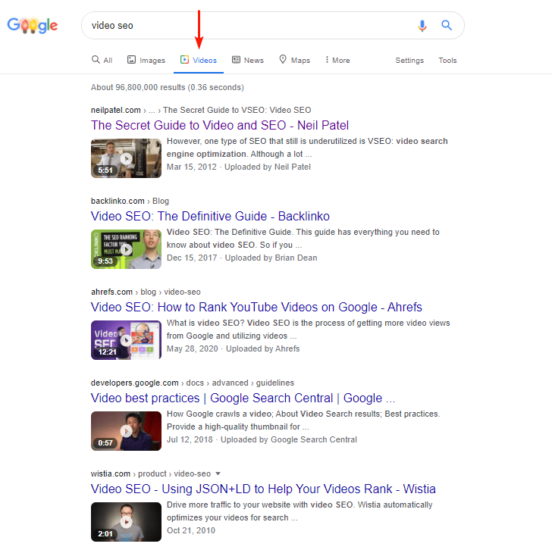 When you choose to make video content and add videos on your site you are targeting a new audience. A very large one! If you optimize the videos properly, you will increase more traffic on your website and yes, some of that traffic might be relevant for your purposes.
We see that a lot of brands are making video content right now more than ever . They incorporating them on their overall marketing strategies. However, there are brands who remain on the safe SEO type of content like images, written content and so on. 
Today, If you want more traffic on your website, video content is the way. In this case you need to use it correctly and then videos really can provide a huge boost to your SEO campaign. All videos can rank in the video tab, but the objective would be to have your video ranked in the universal SERP. It's already a little bit difficult to rank there, as everyone makes videos for their businesses, but not impossible.
Besides, you need to know that it's actually easy to get your video indexed on the video tab. Also, gaining rank with your video on universal search has a lot to do with the authority of your website. It's all about how video-focused it is, and how it ranks for video-related queries.
SEO for Videos – tips and tricks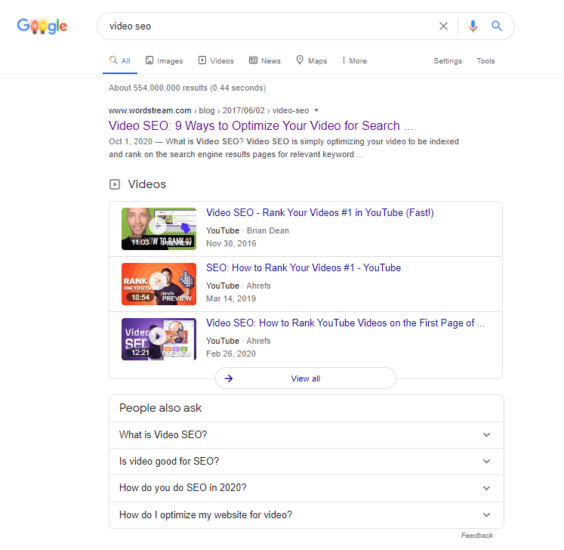 As I said, to maximize the benefits of your video SEO campaign, you should chase getting your video ranked in the universal results. We prepared you a summarized guide with how can you improve your  SEO for videos on Google. So let's see the first 5 steps to Optimize Your Video for SERP ranking.
Strategy – Define your goals
Before you start to optimize your videos, you need to define your goals. You need a video content strategy. Maybe you want optimizing your video to gain site traffic and new leads. Or your goal is more general thought leadership and brand awareness. 
If you can't define your goals in the early stages, you will end up with some huge costs for the video and your client too. 
One of the most common mistakes in SEO it's exactly failing to clearly define your goals. 
Choose the right video hosting platform
This will be the next step after you define your goals. If you are focused on general brand awareness, the platforms that can help you are Youtube and Vimeo. But those platforms have some issues.  If you index your video on one of those two, most of the traffic goes to them rather than your own website. This can make your potential website visitors get lost in a sea of competing traffic. 
If you are more into increasing traffic for the website and push leads towards conversions, you can explore some of the alternative hosting platforms that support this capability such as Wistia. This platform automatically inserts SEO metadata to up your likelihood of being indexed. 
Obviously, those aren't all the solutions when it comes to hosting platforms. So you need to do your research before choosing one of them.
Don't forget about the video transcript! 
You've probably seen so many videos in the online area which have captions alongside the video and your experience with those videos was more easy and helpful. Right? So, this helps us to view the video in silence if we are in a crowded room, or to not disturb our mates.
The text associated with your video is known as a transcript of the video. If you add transcripts to your videos, you add more value and make the user experience more interesting and the video more accessible. This way, you can reach a larger audience for your business. Even more, video transcripts can make your videos more written by search engines because there is additional text on the page.
Personally, I don't click on a video with a bad thumbnail image. Are you the same? In that way, we can see how important the thumbnail image is for your video. 
The video thumbnail is the main thing that people see when they search for video content. The thumbnail is what your audience sees firstly. That's why it's an important pillar that people rely on when they click. 
The thumbnail image is like a book cover or the main picture the people see on your website homepage. It has to be clear, relevant and beautiful thumbnail so the users recognize your brand in the online area. 
When you utilize strong thumbnail images, you are more likely to have an amazing impact on click-through rates and other video SEO metrics. A high-quality and engaging thumbnail can help your business to grow more quickly. 
More than that, you can make your own images for thumbnails. In this way you will be more original and clear in the searchers eyes. The thumbnail must connect the user with the content of the video. It is also mandatory that it's relevant for the subject you approach. Why?  Because your image it's more important than the title, that's the factor which make people click or not.
Importance of video title and description
Like every other step in this journey of video SEO, title and meta description play a strong factor into ranking videos, like on a blog post or an image optimization. 
Just take time to think of an engaging and interesting title and description for your videos. You need to make them relevant for the users. For that make sure you do keyword research to ensure you're targeting keywords that people are actually searching for.
If you seek gaining greater visibility in search results, you need to ensure that your video titles and descriptions are highly optimized. That's the idea. Before you put the video online, you can ask yourself if it's clickable or interesting. 
How can GeoRanker help your video SEO campaign?
You want to introduce videos on your website and target a new audience? Once you do this, you will need to benchmark your video SEO campaign results and we are here to help. GeoRanker can extract all the videos results for any keyword in any location from the universal SERP. You can also search your video rankings directly in the videos tab using our alternative Google Videos Search engine.. More than that, we offer the data both via API and Graphical user interface. For more, don't hesitate to contact us.