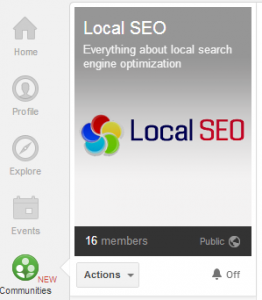 Yesterday Google announced the addition of the Communities feature within Google which enables anyone to create or join groups devoted to certain topics or areas of interest. Gundotra, Google's senior VP of engineering gave the following statement:
"We started Google in the first place to make online sharing as meaningful as the real thing. Too often, our online tools miss the subtlety and substance of real-world interactions, and Google aims to fix this. Fortunately we've got a vibrant community to guide us."
Google seems to be rapidly gaining users and popularity and perhaps even becoming a threat to Facebook and other social networks. According to Gundotra, Google already has 500 million registered users, of which 135 million are active. In order to find out more about Google Communities and how you can create your own community, check this page.
We regarded the launch of this new Google feature as a good opportunity to create a group, through which we can test out and discover all functions and uses of the new Google communities. Thus, we launched an international group dedicated to Local SEO experts and enthusiasts. The main aim of this community is to gather in one place all people are connected to the Local SEO and SEM industry and wish to ask questions and participate in discussion on this topic.
So, if you're into Local SEO and intend to participate in any future discussions or simply want to stay connected to news and findings concerning Local SEO or Google Local, you're warmly welcomed to join us on the Local SEO Community on Google .