There are different opinions about how Google algorithms work and which is the best methodology to place a website on Google's TOP Rankings.
I am Sergiu Draganus, the CEO of GeoRanker and I will help you to have a clear understanding of which are the main pylons of building a powerful Search Engine Optimization (SEO) strategy.
What Is Local SEO and Why Is There Such a Big Fuss about it
Local SEO means how professionals and any businesses targeting local audiences can get more clients. It allows them to promote their services to local customers that are looking for that specific niche.
Why is this a must for businesses targeting local audiences? Because people are now using their smartphones to their full potential. That means they are trying to find solutions to their problems on the go, as close to their current location as possible.
Ensuring your business pops up as a solution to their problem may get you more customers through the door. Additionally, these are new clients that would more likely recommend your company to others. That is an opportunity you don't want to miss.
How does Google display its results?
It is important to understand the differences between the main Google results types:
maps pack results
organic results
there are also ads, images, video, news and several other widgets, but I will focus on the top 2 results which are leading conversion to website owners and can be influenced via SEO.
The following image explains the layout differences for both types of results.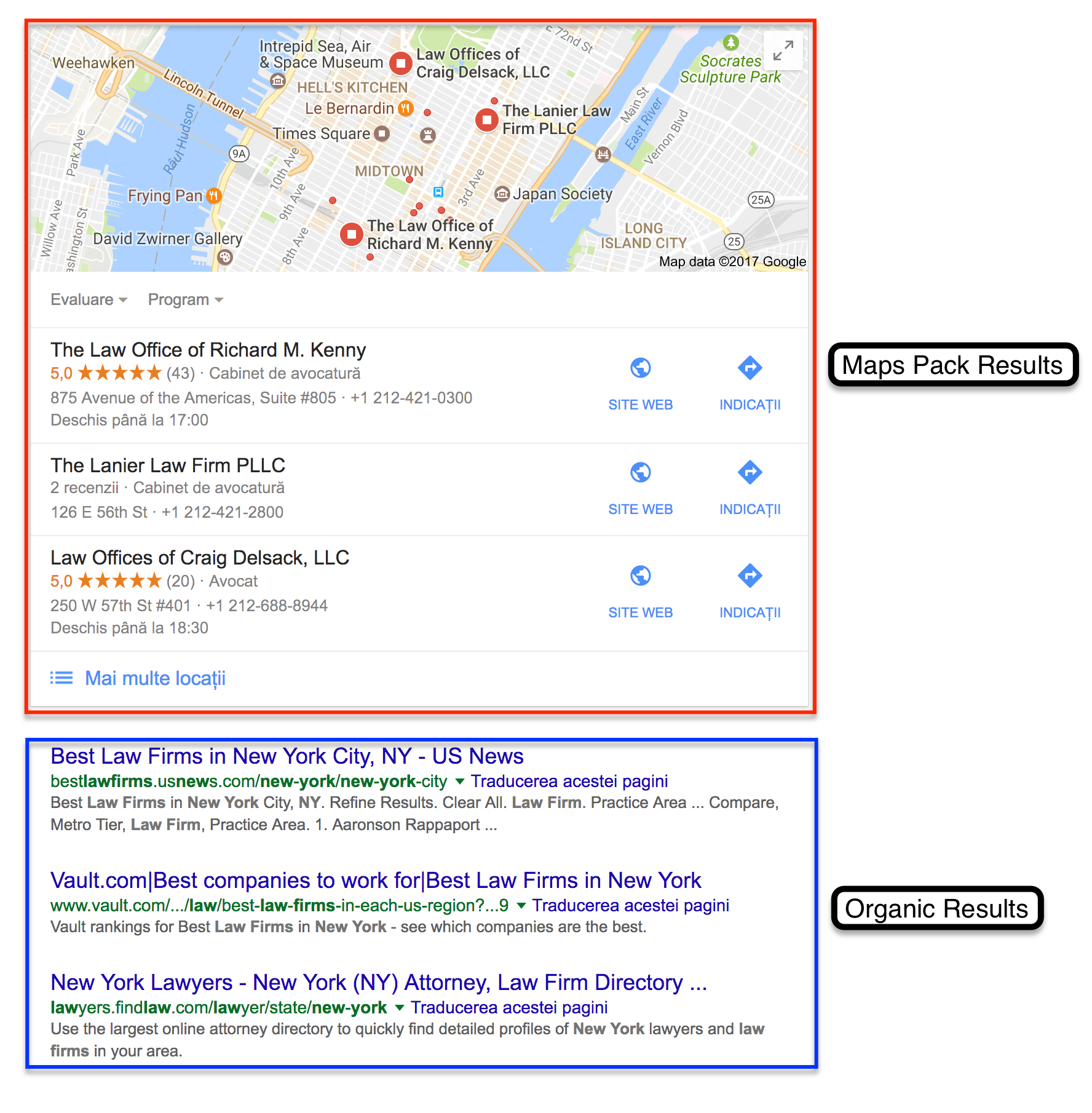 We know that Google makes huge efforts to deliver high-quality search results to its users, by running periodic updates to its algorithms.
It's pretty common among the Internet users and search specialists the idea that only the Google Maps Pack results are being different depending on the user location, so they are seeing the investment in a Local Search Engine Optimization (Local SEO) campaign having as a Return On Investment (ROI) better rankings in Google Maps Pack only.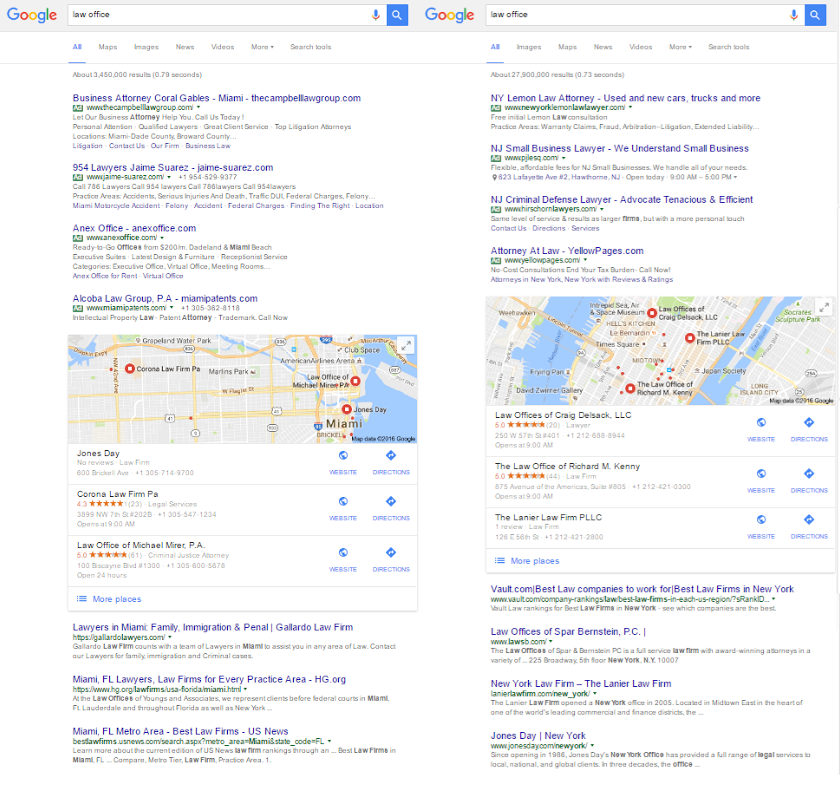 The truth is that Google is showing different results for users located in different geographical areas for both type of results, Maps Pack and Organic. 
A user searching for "law office" while in New York will see different results than a user searching for the same thing while in San Francisco, as you can see in the image above.
When did this start?
Wikipedia does a decent job of shedding some light on the beginnings of different local results on Google:

Back in 2012, after the Venice Algorithm update, Google has started to provide display different organic results depending on the user location.
This has created huge opportunities for:
Internet users – searching for products, services or some piece of advice only
Website owners – looking for more conversions
SEO Professionals – a new type of service to be delivered
Which are the main user-side factors influencing the search results?
The Search Engine Result Pages (SERPs) Google displays for a specific user is directly influenced by any of the following factors:
user location – user IP or GPS position for mobile searches
browsing history (*cookies)
user browser – Chrome, Mozilla, IE, Safari, Opera etc
browser language
search language
device type – Desktop vs Mobile
Please note that even if you activate incognito mode Google can still track part of your search behavior.
A good suggestion is to clear browser cache and delete cookies.
In case you need to see the results in another location, you will also have to change your IP using a VPN or Proxy solution.
Google is continuously refining how web pages are ranked to match the searcher's intent.
Which are the benefits of different Local Rankings / Local SEO?
The Internet users are getting more and more accurate results. Until this moment an user searching from New York for "Pizza Delivery", "Law Office", "HVAC specialist" etc, could get results even from San Francisco and the search process would take a lot of time to identify the thing he was looking for. After the Venice update, the results were always providing first, businesses located in the nearby.
For the website owners, this resulted in an increased conversion rate because the visitors' audience driven by Google was much more targeted.
Small websites start ranking higher than un-optimized national-wide businesses by sending sometimes, by mistake, local signals to Google.
This has created a huge opportunity for SEO Specialists to offer Local SEO campaigns not only to multi-location country-wide corporations, but also to small and medium local businesses.
Google Venice – one update – Huge Amount of Value provided …. but, this has created several challenges for the SEO Professionals.
Local SEO Challenges:
First of all, we need to have a clear view on the main list of activities included in a Local SEO campaign:
analysis
implementation + maintenance
Local SEO Analysis challenges:
While doing an analysis for creating a customized SEO strategy for your client needs, you need to start with:
the current status of the project, to be able to show improvements over time
competition analysis
Many times the analysis need to be done in different locations at once.
Issue number 1: None of the analysis could be provided with accuracy without using the correct methodology and the right instruments. Even if you have the methodology and the rented remote IPs you will need to spend hours to build each report.
Without accuracy on the reports, while you are in the analysis phase, you risk to build a strategy based on wrong data, therefore the first SEO results will come much later.
Local SEO Implementation and Maintenance challenges:
Through SEO we can generate high qualified leads with a relative low invested amount of resources.
Did you know that 50% of consumers who do a local search on their smartphone visit a store within a day? Same with 34% of consumers who searched on a computer or tablet.
The issue is that SEO results start to show up on an average of 4-6 weeks after the first steps have been implemented. The implementation phase comes after the analysis has been done, and that also takes a lot of time.
The SEO Professional goal is to win clients with a good retention rate. On the other side, the client wants to get results in the shortest time in order to start paying the commitment for the SEO monthly fee, hence he basically wants to see more conversions transformed into money.
This is the reason why many specialists are using different intermediary Key Performance Indicators (KPI) to comfort their clients with the following:
website health evolution reports
indexed number of pages
Google Rankings evolution
traffic level
number of conversions
The reports are usually offered in the exact order as the one above, based on the difficulty to be reached.
Ranking evolution is one of the most important KPIs the clients want to get and they are ready to pay for.
Issue number 2: Accurate Ranking Data can NOT be provided without the proper instruments! Since the Google Venice Update – position on Google can NOT be tracked without using Local IPs. Many tools are trying to emulate locations while searching on tracking google positions, but without Local IPs their accuracy is very low. This is the reason why many times the clients are canceling the SEO contracts because the rank tracking reports are not accurate.
GeoRanker is solving this issue by running all its reports with Local IPs. It is the only tool on the market able to do this.
What Determines Your SERPs Position?

You need to be sure that all Google guidelines related to your website health are followed. You should focus on:
Website Usability
OnSite SEO factors
OffSite SEO factors
Local SEO specific factors
Social Media Signals
Website Security
Content (duplicate or not)
But this takes a lot of time to analyze and we all know Time is Money!
Luckily there is a solution which allows you to run a free Website Healthcheck report with eRanker which will analyze all the above groups of factors.
This will save a huge amount of time in the sales and analysis process.
What Is GeoRanker and Why You Should Use It
GeoRanker allows you to see the results as a local user. Its uniqueness comes from the fact that it uses real Local IPs to run the searches on Google, compared with similar tools which are only trying to emulate the user's location.
It helps you track the evolution of your local rankings based on keywords and locations you choose.
You will be able to:
Check your current website position through different locations, on different keywords and on multiple search engines
Track mobile device rankings
Track Rankings evolution over time
Receive Alerts on significant ranking drops (in case you will get penalized by Google for some specific keywords)
Discover your Google Maps, Google Organic and Advertisers Competitors in different locations
Identify the best citation sources for your business
Keyword Discovery and Density Check
Citations Souces Discovery
In order to rank on a high position from a local perspective, the website needs to send the right local signals to Google starting with the website structure & content, going further to gain local SEO authority from other high authority local sources using citations.
What is a Citation?
A citation is the mention of a business name, business address and business phone number, on any type of online source, in a structured or unstructured way. It is one of the most important factors used by Google algorithm to understand the level of Local SEO Authority for a certain URL.
Citations are being listed on directories, blogs, social media platform, social networks, eCommerce websites and so on…
This will help Google's algorithms better understand the SEO Authority of a website on a specific location and for a specific industry/niche.
Customers will find your business' address, phone number, open hours and so forth. That means it will be easier for them to get in touch with you.
To gain a higher authority from a local perspective your website needs to be listed on the most important local citations sources for your industry/niche.
I recommend the next article to find out how you can identify the best citation sources for your business: "How to build Citations as a PRO?
How to Use GeoRanker, The Only Local Rankings Tools Set You'll Need
GeoRanker generates a report about the evolution of your local rankings for each keyword and location selected. It will provide you an accurate view on your current ranking positions and will help to benchmark the SEO campaign results.
This task takes less than one minute to complete, it is basically done in real-time. This is the time needed for GeoRanker's server to connect to local IPs in the area that you selected and run the search query on Google.
In case you don't already have a GeoRanker account, go ahead and create one for FREE. It only takes a couple of seconds.
Once logged in head to the RankTracker section in your Dashboard. You'll be able to select cities or countries.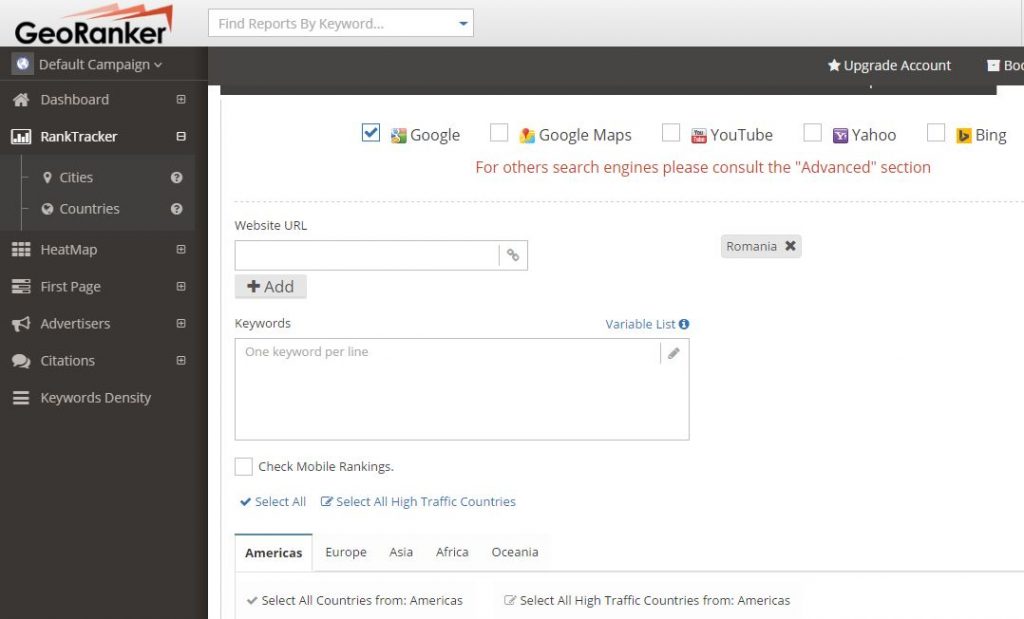 If you're going for cities, makes sure you first select the country they are situated in. On the other side, if you want to check your SERP position for different countries you can just select both of them.
To generate your report, you'll have to enter your website URL and your keyword or list of keywords.
Final step: press "Generate Report" and start analyzing the data.
There is also an advanced section of RankTracker. It gives you a few extra options, in case you need more precise data. Here you can also choose to leave out organic results from the report.
If you want to grow your business in a healthy way, you should stop wasting time on non-strategic marketing plans. Start working on your local SEO strategy to improve your SERP position.
And the best way to get started is by using GeoRanker's top features. You can head to our Sign Up section right now to create an account. Then, you can start getting useful insights that will help you reach more customers.
Don't forget to Book a 1-on-1 platform demo with one of our specialists to provide a clear match between your needs and GeoRanker's features.
Reach out and get in touch with us online in case you have any other question or need more information.