What is a Citation?
A citation is the mention of your Business Name, Address and Phone Number. It is one of the most important factors used by Google algorithm to understand the level of Local SEO Authority for a certain URL.
After running an analysis on a high number of websites ranking on top Gooogle Rankings we've discovered 3 different things:
Citations Number – is one of the most important factors correlated with top ranking websites, but only up to a certain level
Citation Source Quality – is very important to have citations on high quality websites related to your industry
Citation Source Local Authority – need to identify citation sources with high authority on the location your are targeting
This is the reason why Generic Citation Lists will not provide a competitive advantage. Using large public citation source lists in the form of directories, the same as your competitors will not bring you any extra advantages and Google will make the difference on other factors when will chose which site to rank on top.
To improve rankings you need to build Citations on sources with High Local Authority on the Industry you are targeting.
Learn more by reading the full post!
How does citation building work for sites?
There are a lot of businesses that don't care about local search and thus local citations. Their services are primarily meant for online customers who live in various countries, various places. They create a marketing strategy that works on a web level.
But if you're a small local service provider, your priority would be to find a well-paying client from your own city. Links from specific local resources, having your content featured in a tourist guide and positive text reviews on Yelp can easily increase your client base.
Still, your focus needs to be on listings that search engines see as relevant.
The question is: How to discover best Citation Sources for your Local Business?
Here's a very good way to identify the best local citation sources using Google and a reverse engineering algorithm.
Lets take for example the keyword "law office" and run a Google search query on it. I will do the test with an Internet IP address from Miami, FL. The top results are from the Map Pack in this case: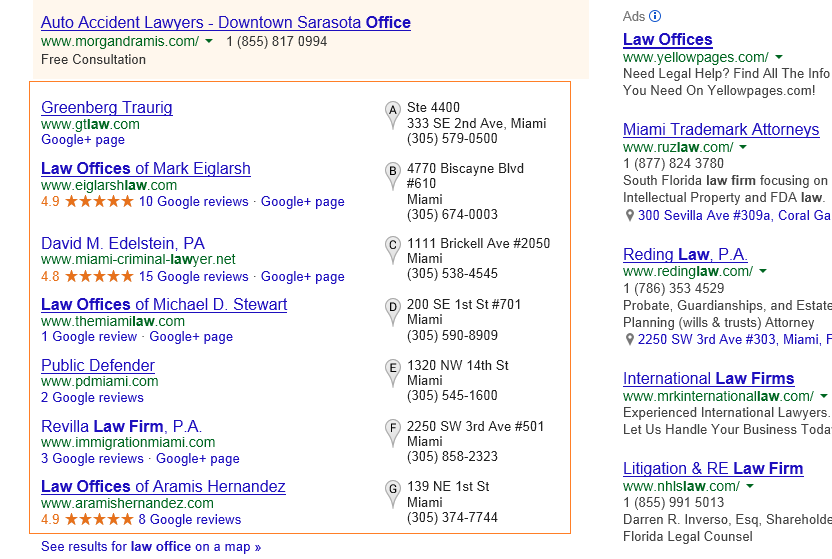 In case the results were Organic only or Local Carousel Results you shall ran the same algorithm. To understand why Google generate different type of SERPs ( Organic, Maps + Organic or Local Carousel ) you shall check the next article: http://www.georanker.com/blog/how-local-seo-is-influencing-google-serps/
Open each different website and try to identify the Name, Address and Phone number. In this example things are easy because the Maps Pack is already listing them.
For each different NAP discovered run the next Google Search Query
"Brand Name" "phone number" "address" -site:domain.tld
ex: "Greenberg Traurig" "(305) 579-0500" "333 SE 2nd Ave" Miami -site:gtlaw.com
Result: the Best Citation Sources used by "Greenberg Traurig" for ranking on TOP position on Miami
As you can see local yahoo com and citysearch com are the only 2 citation sources listed on the public citations list. The sources are the ones Google search engine consider to be the most important for this company.
run the same algorithm on all other keywords and website listed on Google SERPs.
save all citation sources in a Spreadsheet  and remove duplicates.
start building citations on each of those sources
monitor the Local Rankings  and you will see first improvements in less than 2-3 weeks
have in mind that you also need to set work hours
Please note that:
You should claim your listing on Google Maps before starting the citation building process. Google map is always a great place to start
NAP Consistency – the Name, the address and the phone number need to be the same as the one used when registering on Google Maps
Best is to have your website connected to your Google+ Business Page ( or Google+ Local Page ) – this step is not mandatory. Optimizing your citations is a great way to be consistent with clients. It will help you not only keep your existing ones but get new customers on a regular basis.
In order to discover citation sources for a large number of keywords and location at the time GeoRanker Citation Source Finder Tool can be very helpful. For this you need to register a free account with GeoRanker. It will not only discover them in only few minutes, but the technology used is optimized to discover High Authority Citation Sources for Implicit Keywords.
Once you access the tool, you can include up to 5 cities that you wish to track. It also helps that you can easily switch between global and local search. After you login and setup parameters, tool will provide a complete, accurate report. The log can be amazing for tracking any change.
Have citations for local business helped your digital team? How often do you submit your site to a directory?
Share your thoughts in the comments below! Make sure to call us if you wish to add anything to this text and follow us on social media!