Because of its high visibility Google Local Carousel is the place where all Local Business websites need to be listed. Google Local Carousel displays the best local results for your search query. Based in how close the searcher is to your business, reviews, photo quality and local citation, Google will determine what are the best results to show in the carousel.
As you can see in the example posted below, Google Carousel is the row of images across the top of the Google SERP (Search Engine Results Page) against a dark background.
Starting from the keywords compilation built by Mike Blumenthal  that Trigger Local Carousel on Google SERP, a quick analysis was built for each different keyword type in order to understand the main areas for which Google is delivering the Local Carousel.
Local SEO agencies can use this data to identify where to look for new clients.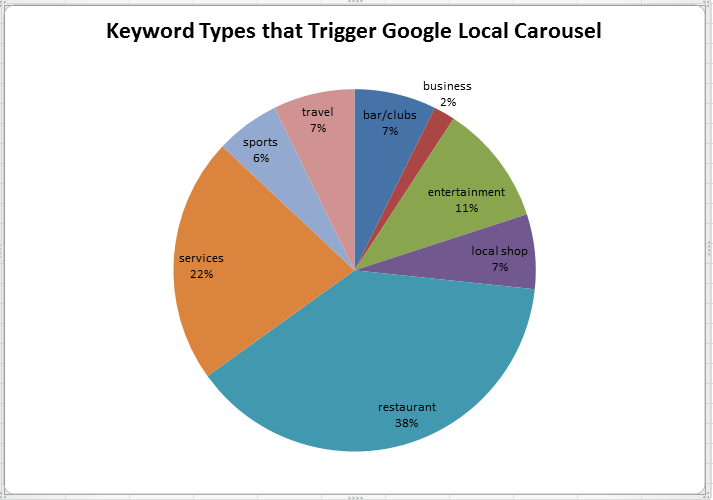 According to a recent report, Google Local Carousel impacts 14 percent of keywords across all industries.
TOP  Keyword Types in Local Carousel are:
Restaurants – 38%
Services – 22%
Entertainment -11%
Local Shop , Bar/Clubs – 7% each
Travel – 7%
Sports – 6%
Business – 2%
What types of keywords generate a Carousel?
The vast majority of the keywords and phrases that generate a Carousel are asociated with travel, dining out and ideas for things to do in certain places.
It seems that keyphrases including "things to do" to be the most competitive ones. Therefore, if you decide to target phrases including "things to do", you should expect a higher level of competition.
Right now is under development a new analysis on websites ranking on Google Local Carousel from 3 different perspectives:
Local SEO
Social Media
Generic SEO
Follow us to stay tuned with the latest updates!