Working on Local SEO campaigns for clients with multiple branches/locations can be a daunting and challenging task if you are not using the proper on and off page techniques. Here are five principles that will help your client or your own business dominate your competitors: build out location pages, use microformatting, keyword themed content pages, citation building and reviews. If you are reading this and have experience in local search engine optimization, you are probably saying to yourself, no duh! Well if this is you stop reading and get back to work, but if you are a beginner or a business owner, I suggest you continue reading.
Location Pages
Having a location page for every location is key because you are going to treat every page as its own local SEO campaign. Meaning, whatever you do for one location page you will need to do for the rest of them. The perfect location page needs to have the following elements to ensure you get the results you want for every city in which you have a presence. In order to have a fully optimized location page you will need to have the following elements on it: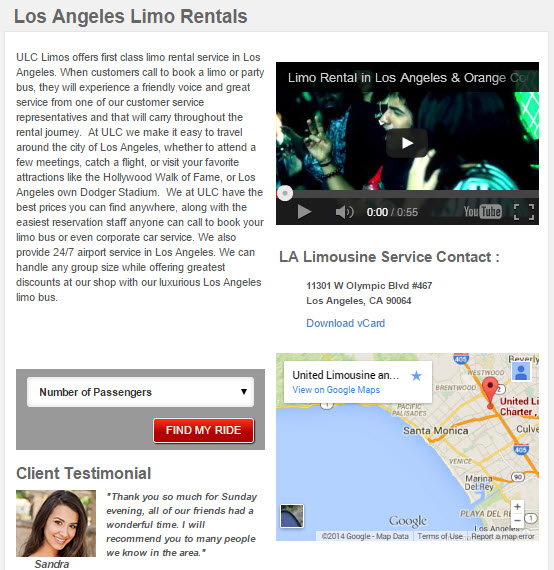 Your Business name, address and phone number exactly as it appears on your Google+ Business Page
Your business hours
Link to your Google+ Business, Bing Places, Yahoo Local and Yelp Business Profile
A feed of reviews from clients using a third party WordPress Plugin like Get Five Stars
Create a KML file for every page as well as an H or VCard
Embedded Google Map
A Location specific video
Location themed content using semantic language to ensure you are targeting your desired keywords
Trust Logos
Nearby Cities
Nearby Zip Codes
Microformatting
To ensure the search engines are reading your information as you would like them to, using microformatting is vital. There are different ways of generating it, you can use Schema.org or you can use a website like microdatagenerator.com. If you are a developer or have one on the payroll schema.org is recommended, but if you are not a developer, I recommend you use Micro Data Generator. It is a very easy to use website that will create the code you need. All you have to do is fill out a few fields that include business name, address, and phone number. Once you have created it, just copy and paste it on the location page.
Other ways to create different types of microformatting are using the plugin WordPress SEO by Yoast to get your Facebook OG tags and Twitter Cards data on your website. Lastly, video microformatting is something you don't want to forget so you can use Schema.org or a shortcut called sistrix.com. Sistrix works the same way as Micro Data Generator. All you have to do is copy and paste the YouTube or Vimeo video URL and the code is created for you.
Content Themed Pages
As you have heard before content is king. Therefore you want to start at the website level by building out keyword themed content pages for every service you offer. Start by performing basic keyword research based on the services you provide using Google's Keyword Planner Tool to get an idea as to what keywords have the highest search volume and other opportunities that you may have missed. Here is a trick I like to use, take the top 10 keywords that have the highest search volume and perform a manual search for those words to see if you can identify a pattern of about 5 to 6 competitors that are ranking well for those keywords. Once you have identified which businesses are doing well. Use SEMRush to get a full list of keywords they own via paid and organic.
Now the real funs begins. Perform your keyword research to identify the keywords that have the highest search volume and create pivot tables to find out the number of competitors that are going after the same keywords you would like to rank for. Once you have selected your keyword list, you can begin to write content around those keywords. Don't forget that if you see keywords that are close matches to other keywords to use them semantically as long as your content sounds natural, since you are writing for people and not robots.
Citation Building
As I mentioned earlier, treat every location page as its own campaign. What? When you are building citations don't use your root domain/homepage in the citations and use the individual location page URL instead. Now what is the best way to find citation opportunities? There are several services you can use such as; Georanker and others. Whatever you do, do not use Yext. Once you terminate your annual contract and don't renew or happen to move locations it will be a nightmare to edit your citations. Once you have your list of citation opportunities, it's time to begin citation building.
Here are a few tips that I recommend:
Always do your best to complete them as close to 100 percent as possible
Cross link your citations when possible
Link back to your social media profiles from the citations
Always provide your business hours to prevent a bad user experience
Post pictures of the products you sell
Use videos
Offer discounts and coupons when possible with an expiration date and unique tracking code to find out which promotions work best
Business Reviews
Business reviews will help your citations gain traction in the SERPs, especially after the Pigeon update. Take advantage of two of the most powerful business review platforms, Google+ Business Pages and Yelp. By earning reviews and fully optimizing your business profiles you will have the ability to show in Google's 3 or 6-pack. There are two ways to get client reviews without paying or incentivizing your clients or customers. One way is a two-step process, create a 3 to 4 question survey and send it via email or sms if they like your services or products send them a link to the desired profile you would like them to leave review on. Second, if at all possible have a few tablets at your location or PCs available and ask them if they would like to share their experience about your services or products if they agree, ask them where they have a profile so they can leave a review without having to create and account. Remember the KISS "Keep it Simple Stupid", approach when attempting to get reviews.
Reviews not only will help you own more real estate on the SERPs but it will increase your organic ranking. Also within time you will have plenty of good reviews that even if you get one or two negative reviews the positive reviews will outweigh the negative ones.
Ok, now that you have an understanding on how to increase your organic ranking for your desired keywords and in the cities you have a presence in; it's time to start with an audit to find out what elements are missing in your campaign and make improvements. By making these improvements you are likely to see an increase for your desired keywords anywhere between 3 to 5 spots and in some cases you will go from not being in the top three pages to page one. I have seen this type of movement in the past; trust me on this one. Good luck and enjoy your success!